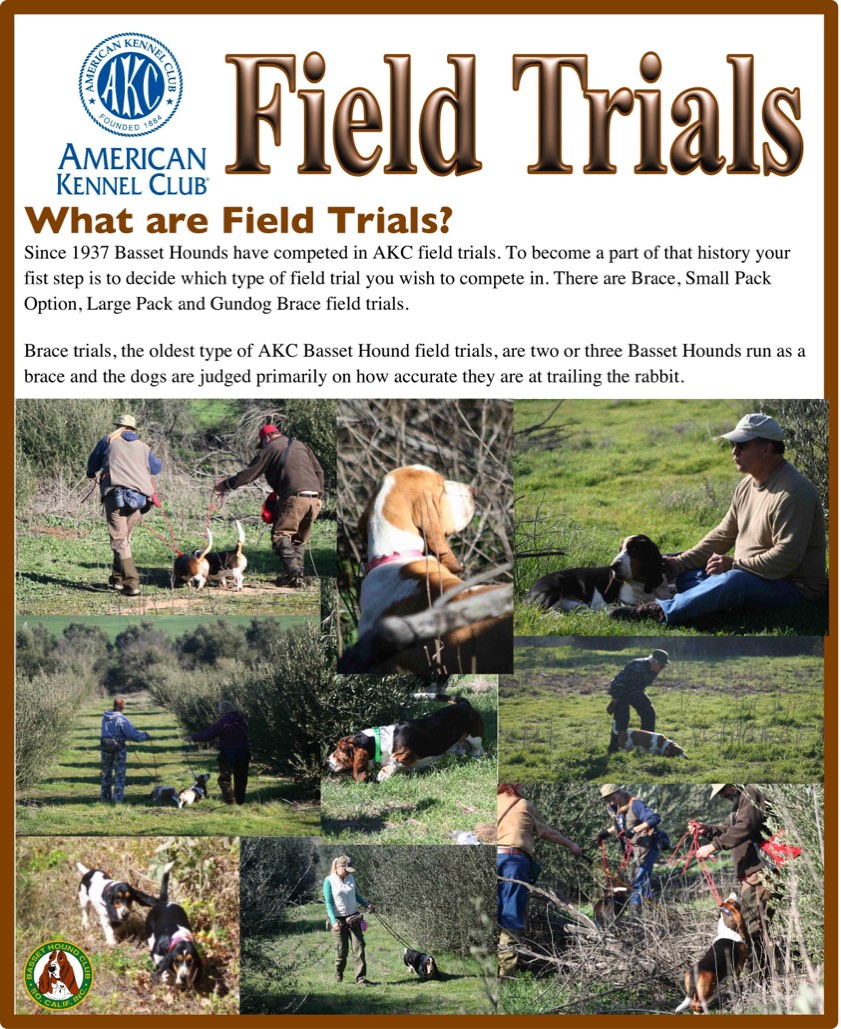 Field Trial titles can earned by dogs through the AKC. The BHCSC holds field trial competition for basset hounds in winter and fall each year. The information below may help you understand this event. You can find an explanation of basset hound field trials on our page, Field Trials Explained and on the AKC website.
Basset Hound Field Trials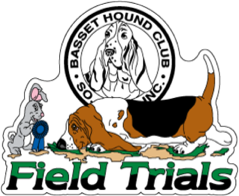 LINK: BHCSC Field Trial Video on YouTube
This video was filmed by our BHCSC Webmaster, Don Bulllock. Go on a typical field trial with the Basset Hound Club of Southern California. See what it's like to take your basset hound out in the field. This video explains the process and shows examples of bassets out in the field.
LINK: Field Trials Explained
A pictorial explanation of field trials and what to expect. Anyone is welcome to come out and observe what goes on at a field trial. Unless you are entering your basset it's best to leave him at home.
We encourage you to come out to our next field trial. Wear comfortable shoes. You'll be walking a lot. Download the Premium List (above) for details. It has times and maps.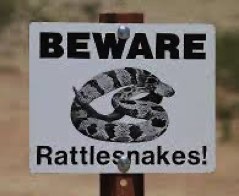 A special word of warning for these events. Rattlesnakes have been spotted on the grounds where these events take place. While those in charge of the events make every effort to hold them at a time when rattle snakes are less likely to be active they still may be present. Participants are encouraged to be very vigilant for their safety and the safety of the dogs involved.
Field Trial Weekend DETAILS: The Basset Hound Club of Southern California Saturday February and Greater San Diego Basset Hound Club are holding joint field trials.These Field Trials are held under the Rules and Procedures of the American Kennel Club Join us for 3 Field Trials on Presi- dent's Day Weekend Prado Regional Park Intersection of Cucamonga and McCarthy Roads, Chino, CA Entries close and drawing will be at 7:00 AM PST each day for the Field Trial classes. All entered bassets must be present on the Field Trial grounds for the drawing of entries. unsult Marianne Lovejoy for additional information including names of judges.
NOTE: SPECIAL INVITATION TO ALL MEMBERS WHO HAVE NEVER BEEN TO A FIELD TRIAL TO ATTEND ONE OR MORE OF THESE EVENTS. FOR INFORMATION ABOUT ATTENDING, CONTACT MARIANNE LOVEJOY AT: MVLOVEJOY@COX.NET. YOU CAN ALSO VISIT THE CLUB WEBSITE AT: WWW.BHCSC.COM TO VIEW A VID- EO PREPARED BY DON BULLOCK THAT WALKS YOU THROUGH WHAT HAPPENS ON A FIELD TRIAL. THIS IS A FUN NEW WAY TO BOND WITH YOUR BASSET! (see link below)
PVMAC PARKING LOT: Exhibitors must park on the inside of the parking lot divider rope on the grove side. Please park your vehicles so that any open vehicle doors with crates are facing away from the runway. If you have ex-pens, please place them so that your vehicle is between your pens and the runway. No dogs are to be left unattended in ex-pens at any time. Please do not allow your dogs to roam off leash or bark for extended periods of time.This will be enforced. Anyone not complying will be asked to move their vehicle and ex-pens. Remember, we are guests and we don't want to lose our privilege of using the PVMAC parking lot and picnic area. Thanks for your cooperation.