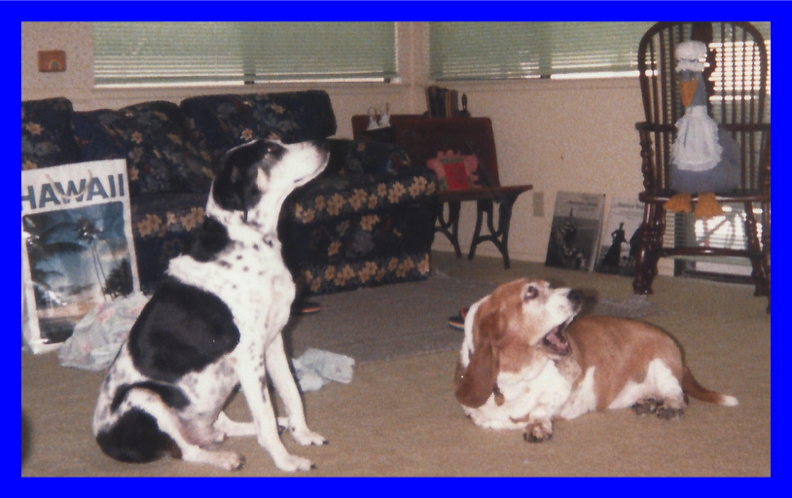 The BHCSC's President's First Bassets
Monday September 23, 2014 (NOTE: this entry was created while Don was serving his second term as BHCSC President)
By Don Bullock
Ruffy & Maggie
Our First Dog & First Basset Hound
One rainy morning at home last winter I decided to pull out some of our old picture files of our dogs. They sure brought out a lot of memories, both good and bad. In some ways, with our early experiences with bassets, it's surprising that we are so devoted to the breed. Perhaps that's the very reason that Pam and I are so cautious and careful when we breed our dogs. We want the healthiest dogs with the best possible temperament that comes as close as possible to the AKC Standard for Basset Hounds.
Since I recently had become the president of the Basset Hound Club of Southern California I thought some of you would like to see where Pam and I started. We didn't just wake up one day and decide to breed a litter of bassets nor were we interested in trying to make money. It was our love of the breed and our experiences with them that led to this decision. Maybe our experience will inspire someone else to give it a try. While it's true that there are many bassets in need of being rescued there is a shortage of well bred basset hounds. We need more breeders who are guardians of our breed.
Prior to owning bassets we had a beagle mix. Actually, according to the records at the pound he was part beagle and part Australian Shepard. We named him Ruffy. While Pam had had dogs before, Ruffy was my very first dog. The two of us were pals. He was the perfect companion. Ruffy loved to ride with me in the front seat of my 1961 VW Bug. We also played a lot of fetch. His favorite game was catching a medium sized football in his mouth from across the room. He loved that ball to the point where he finally chewed off the ends and it fell apart. We had to buy a new one.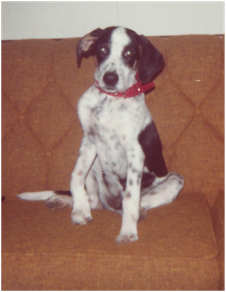 Our first basset hound was Maggie. We got her from the pound in 1977 when she was a year old. Today the more politically correct name would be the animal shelter. After getting our beagle mix, Ruffy, we decided for some reason that we had to have a basset. Neither of us has any idea why. It seems that we just thought they were great dogs. When we went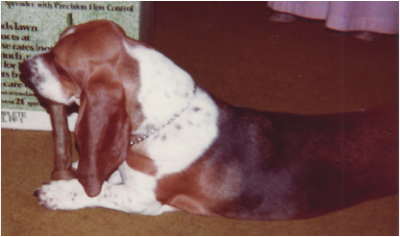 looking at the animal shelter Maggie was there waiting for us. Her name was printed on a piece of paper attached to her cage door. When Pam called her name she reacted by wiggling all over and wagging her tail and Pam was in love. While Maggie was a beautiful basset, was very affectionate and enjoyed playing with the
other dogs, she was very aggressive when it came to food and attention. If she didn't get what she thought was her share we had a fight. Over the years we broke up many of Maggie's fights. The experience taught us the importance of temperament in basset hounds. We discovered through her that bassets can be mean due to poor breeding.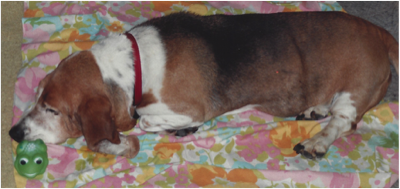 Maggie as a senior with her favorite toy.
Maggie soon after we got her.
After our experience with Maggie we felt that perhaps a basset with "papers" was a better way to go. As a result we bought Lucy from a pet store. When we registered Lucy with the AKC the application said to think up an unusual name so we came up with Lucy Woebegone Big Paws. She was a very cute puppy but soon started to develop problems. Our first concern was that she suddenly turned gray on the top of her head. We tried to contact the breeder. The lady would have nothing to do with us. That was a sign of things to come. While the premature gray disappeared Lucy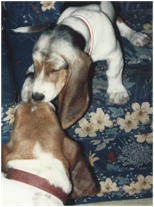 started showing other signs of her poor breeding. The most serious was almost crippling. Lucy was knuckled over in both front legs, a
disqualifying fault in the Basset Hound Standard. For the rest of her life Lucy had difficulty walking. For us this was a lesson of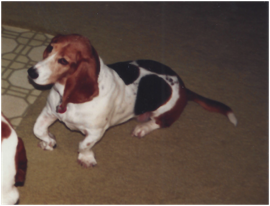 Lucy's knuckled over front.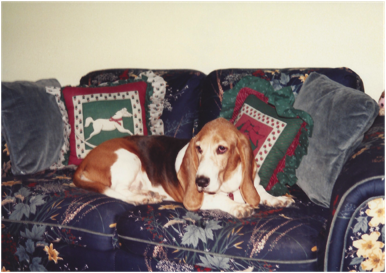 the importance of structure in basset hounds. As a dwarf breed knuckled over front legs is rather common in poorly bred examples of the breed.
Our next basset hound purchase was Chili, Tailgate Chili Willie. We bought him
from Gail Allen of Tailgate Bassets in 1990. Gail and her partner Gillie had beautiful dogs that they showed. Like the other Tailgate Bassets, Chili was a beautiful basset hound and the first one that we showed in AKC conformation events. Unfortunately Chili's bite went undershot (lower teeth jut out a little farther than top teeth) and we had to stop showing him. Chili was a wonderful dog. He was the first dog that we took with us on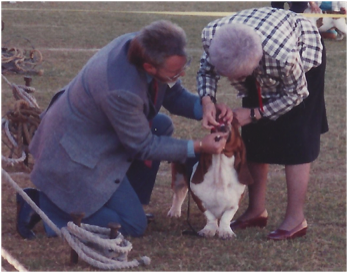 The judge looking at Chili's bite.
vacation. Chili loved going places and meeting new people and other bassets. The Basset Hound picnic was his favorite day of the year. When Chili was four he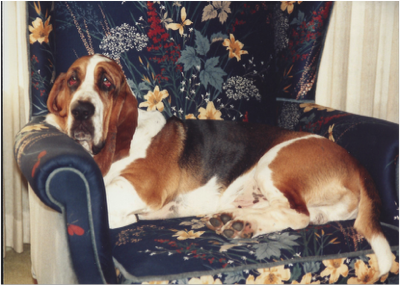 Chili in his favorite chair.
developed glaucoma in one eye. About nine months later he lost the other eye. For us this was truly devastating. We lost a lot of sleep and many tears were shed, but Chili hardly noticed. His wonderful temperament, stubbornness and keen nose kept him going. There were times when, despite the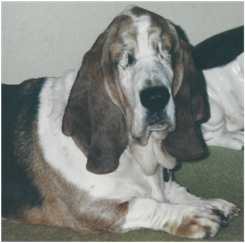 fact that both his eyes had been removed, that we thought he
could see. Chili learned to use his nose and whiskers to find his way and to know who or what was around him.
Chili after losing both eyes.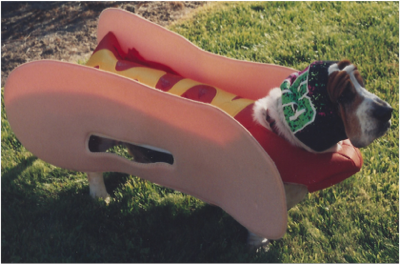 Chili as s chili dog at the Basset Hound Picnic
He was amazing. His favorite event every year was the Basset Hound Picnic. As a
youngster Chili loved greeting new people and other bassets. He especially loved flirting with the girls. After losing his sight he was no different. He taught us that health testing and a thorough examination of pedigrees was very important for our future breeding. We
also learned that basset hound bites can go undershot even after they are six months old. That's one reason we keep some of our show prospects longer than some people do before we sell them as pets.
After having our disappointment with Chili we still wanted to show basset hounds and perhaps eventually breed our own someday. We approached Sue and Andy Shoemaker of Shoefly Bassets. They sold us a beautiful boy that we named Sam, Shoefly's Samuel Adams. Sue and Andy had a requirement that their males had to be named after some alcoholic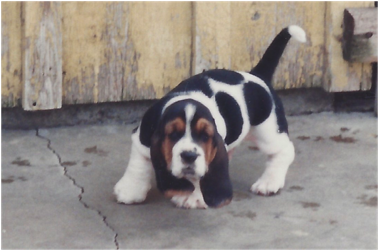 The first day we saw Sam.
beverage. Since neither Pam or I drink (we were school teachers and sang in the choir at a Baptist church) we had no idea what to name him. We searched through liquor stores for possibilities and finally came upon Samuel Adams beer. It fulfilled their requirement plus our students and church friends thought we named him for the patriot. Sam was a very special boy. He loved people,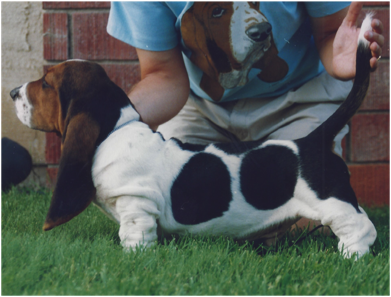 Sam soon after we brought him home.
other dogs and he was thrilled when we put the two together at dog shows. He loved showing. Sam had a special spring in his step when we entered the show ring which made him a great mover. One day we were getting ready for the big show in Palm Springs. It's still one of the biggest shows for bassets in Southern California. We noticed something was wrong with Sam. I won't go into the delicate nature of the problem here but eventually the problem caused Sam to be
neutered which prevented him from being shown anymore. By then Sam was
such a vital member of our family that we didn't have the heart to part with him. He continued to be a great dog. When Sam turned six he was eligible to be shown at our basset hound specialty shows as a veteran. Sam was again back where he loved to be, in the show ring, and won almost every time we entered him. Again our hopes for a show dog were dashed, but we persevered.
Sam as a senior winning BOS is Veteran Sweepstakes at the BHCSC Specialty.
After our problem with Sam, the Shoemakers offered us a puppy at a highly reduced price from their current litter. If we had sold Sam or given him away the puppy would have been free. We just couldn't part with Sam. He'd become a special member of our family. The "replacement" puppy was Buddy, Ch. Shoefly's Bud light, our first AKC Champion.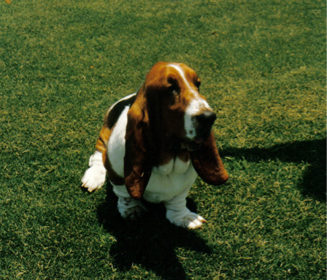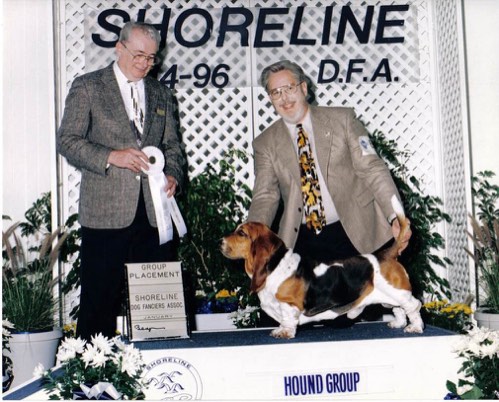 Buddy was 4th in the Hound Group after he Became a Champion
Pam and I have had our trials over the years with our bassets. They have made our devotion to the breed and our breeding program much stronger than it would have been without these experiences. We know first hand why taking care in choosing the sire and dam combination we use in our breeding is so important. These experiences have also taught us to be patient. Puppies can develop faults in the AKC Standard and we need to be aware of that possibility. Pam
and I know how fortunate we are when our bassets do win and eventually produce wonderful puppies if that's what we decide to do. It is these experiences with disappointment that have strengthened our desire to breed quality basset hounds.
We decided that if we wanted some quality basset hounds that we could show and use for breeding we needed to breed our own and not completely rely on others. Fortunately we have been very successful so far with the litters we have bred. They have produced some excellent examples for us to show and produced some wonderful pets for many families. We are very proud of the basset hounds that we have bred and look forward to more litters.
NOTE: The following bog entry was written when Don Bullock was serving his second term as BHCSC President. Since then he has decided not to run again. We, however, are retaining this blog enry on the website in hopes it will inspire others to become more involved with the club. As noted in this entry Don and his wife, Pam, started out rescuing a basset hound and have become exhibitors in conformation and have bred several AKC Champions.
The BHCSC's Webmaster's First Dogs