Additional Things to Keep In Mind When Looking for a Pure-Bred Dog
· Most breeders require an appointment in order to see their dogs.  Therefore, it is imperative that you contact the breeders prior to going to see their dogs.
· Each breeder listed reserves the right to approve all homes and has no obligation to sell to any individual.
· If ...you buy a pure-bred dog that you are told is eligible for registration with the American Kennel Club, you are entitled to receive from the seller an application that will enable you to register your dog.
· If...the seller cannot give you the application (some breeders withhold the application until they receive proof that the dog has been spayed or neutered), they should provide full identification of your dog in writing/printed pedigree, signed by the seller, consisting of the breed, the registered names of your dog's sire and dam, your dogs date of birth, the name of its breeder and the AKC litter number.
· If the breeder cannot provide you with the puppy's proper AKC identification, DON'T BUY THE DOG!
All information contained herein is intended to assist persons attempting to obtain or research a purebred dog.  All listed contacts are members of Basset Hound Club of Southern California, Inc. and are expected to follow the club's Code of Ethics and breed as closely as possible to the American Kennel Club Standard for Basset Hounds. Most are working toward producing their next generation of basset hounds for competition in AKC Conformation in dog shows. Some are also involved in other AKC events. Please do your due diligence in selecting a breeder if you plan to buy a puppy no matter who they are or what organizations they belong to. Club membership does not garantee that a breeder is responsible. Please read all the information on this page and download "Red Flag Warning to Puppy Buyers" before contacting any breeder.
If you're considering buying a basset hound for your family you may wish to contact one of these breeders or see them at a dog show. They all register their dogs with the AKC. Please understand that conformation dog shows were created for the evaluation of breeding stock. At shows dogs are judged against the Standard for their breed by licensed AKC judges. The breeders listed below are all actively involved in showing their dogs at AKC Dog Shows. A list of local dog shows can be found here. Except where noted these breeders are in Southern California.
How to Find a Responsible Breeder
· If you're here you already have a good start. According to the American Kennel Club (AKC) "Local breed and all-breed clubs are an excellent place to find a good breeder." But just because people are club members doesn't make them a good breeders.  It is still up to you to do your homework.
· A breeder that truly cares about their dogs is liable to ask you as many questions as you ask them.  Don't be offended.  They are simply trying to assure that their dog is a proper fit for your lifestyle.  Some breeds and individual dogs are a better fit for some families than others.
· Ask questions before you go out and see the puppies. It is much easier to walk away without a cute ball of fur sitting in your lap, especially a basset hound puppy.
· Check for American Kennel Club (AKC) Registration papers. Currently there are several bogas dog registries claiming to register purebred dogs. Only the AKC requires proper proof.
Check out our AKC Registration page for more details on registration and our information on Responsible Breeders.
Red Bay Bassets
Sandi Whittenberg (Michigan)
SoLow Bassets
Linda Cain (Bakersfield, CA)
Splash Bassets
Bill and Jackie Nolan             
Topflight Bassets
Maria Bivens
Tradewinds Bassets
Steve & Jeffie Casey (Florida)
(386) 310-4514
Wildflower Basset Hounds
Julia Sarah (Arizona)
Windsock Bassets
Kay Haggard
Woebgon Bassets
Don and Pam Bullock
Denotes breeders who may have puppies and/or older bassets available or puppies are on the way. The webmaster, however, can not guarantee the accuracy of this information.







The AKC Breeder of Merit Banner above denotes BHCSC Member Breeders who have qualified and applied for the AKC Breeder of Merit Program and have been accepted by the AKC. There are also different levels of BOM based on the number of AKC Champions a breeder has produced and other criteria.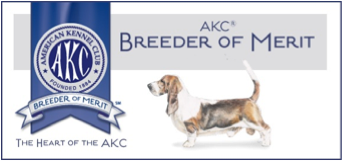 IMPORTANT NOTE: AKC registration in no way relates to the quality of a dog. Puppy buyers need to be vigilant in their investigation of ANY breeder. Visit their facility and look at their dogs. Ask the breeder to show you how well their breeding stock and puppies match the AKC Standard for Basset Hounds. Make sure that the breeder stands behind their puppies and will be there to assist you.
Check out our Responsible Breeders page for more information.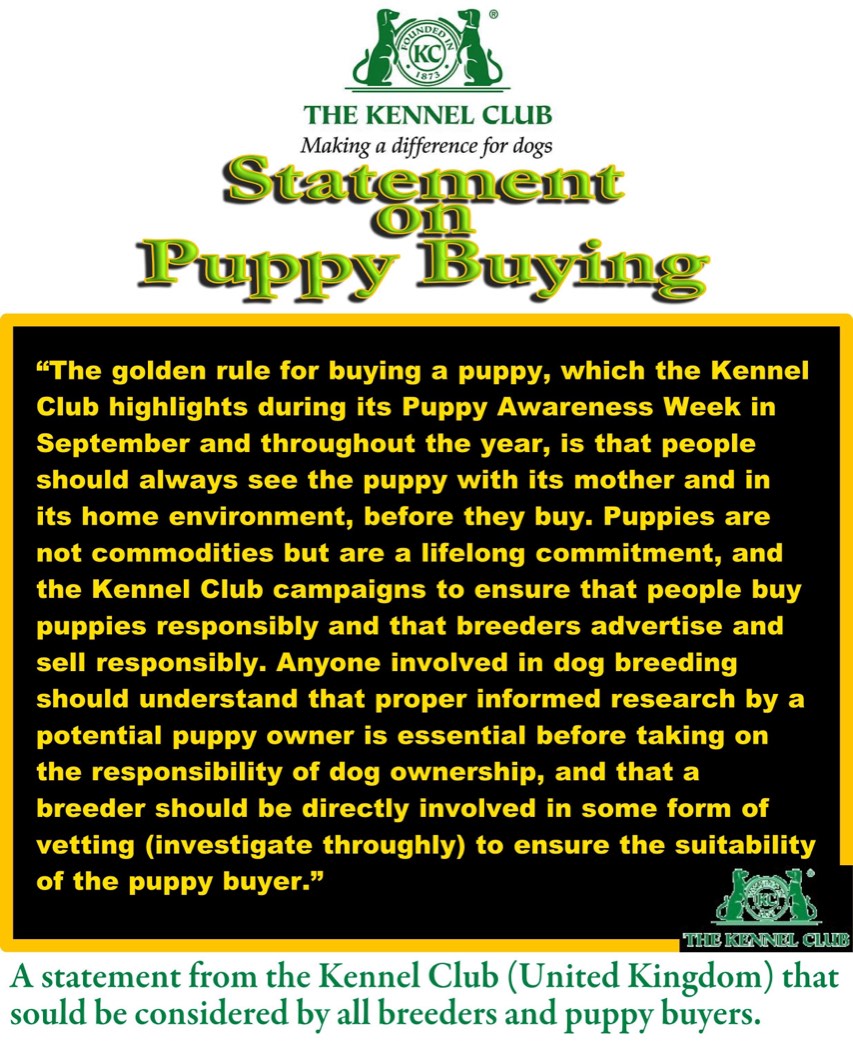 An excellent article by a long time basset hound breeder that appeared in the AKC Gazette.
"Dedicated breeders work to produce healthy, well-adjusted, quality puppies because these puppies become the foundation for our next generation and for the breed's future."


Responsible Breeders
This is a great video produced by the AKC which explains the concept of responsible breeders. This is an an excellent video to explain to people what it takes to be a responsible breeder. We highly recommend viewing this video before contacting any breeder and encourage people to support responsible breeders.
A Note of Caution: Not all AKC breeders are responsible breeders. The AKC is just a registration service. It does not have penal or regulatory authority. Even some breeders listed on their website may actually be puppy mills. The listing is open to all breeders who who pay a fee to be listed stating that they have puppies available. If you use the AKC's litter listings it is very important to check the boxes for and Club Member. Breeders of Merit wth puppies available and those who are members of AKC-licensed or member clubs are much more likely to have a code of ethics that they follow and are more likely to be responsible breeders! Both of these are important in order to avoid puppy mills that may register with the AKC.
It is important to note that while responsible basset hound breeders may have websites where people can find information about them and their dogs they do not sell dogs directly over the Internet. They also do not sell dogs through pet shops or wholesale agents.
The following is information produced and distributed by the Kennel Club in the United Kingdom. They are very similar to our AKC. This information is posted here as a good guide for those looking for a pure bred puppy.
Blog Entry: The Wonders of the Internet
An article about information and so called "breeders" on the Internet.
"My point here is BE CAREFUL! While the Internet is a wondrous invention and has dramatically changed our lives in many ways like anything else there are people who don't know what they are talking about and others who want your money at any cost."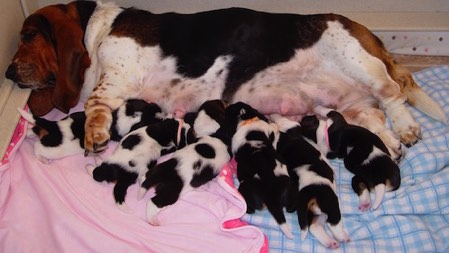 For more information about the AKC's Breeder of Merit program and information on the new levels of Breeder of Merit CHECK HERE.


Please contact the breeders individually if you are interested in a basset hound. This club is not involved in breeding dogs. Each breeder has their own methods for deciding on families for their puppies and older bassets.

BHCSC
Member Breeder Listing


IMPORTANT NOTE: The Basset Hound Club of Southern California, Inc., The BHCSC Board of Directors, nor the club's webmaster certify or guarantee any litters listed on this website. It is the responsibility of our Member Breeders to follow to the club's code of ethics in their breeding and to provide the information posted here. It is up to the individuals who visit this website to be vigilant in their selection of breeders and puppies. Please read all the information on this website regarding Reputable and Responsible Breeders and familiarize yourself with the AKC Standard for Basset Hounds prior to contacting any breeder.
PLEASE NOTE: All information contained herein is intended to assist persons attempting to obtain or research a purebred dog.  All listed contacts are members of BHCSC and are expected to follow the club's Code of Ethics and breed as close as possible to the American Kennel Club Standard for Basset Hounds. Please do your due diligence in selecting a breeder if you plan to buy a puppy.

Why is the AKC Standard for Basset Hounds important for pet buyers and owners?
An article from a basset hound breeder and former BHCSC President, Don Bullock
"Over the years I have been asked this question regarding the AKC Stantard many times -- While, breeding two basset hounds together does create baby bassets that shouldn't be good enough for breeders or owners...Those of you who wish to have a pet or companion as a member of your family deserve a well bred basset hound too."


Please read the FBI Warning on the home page of this website.