The Early History
of Bassets Hounds
With their Introduction to England in 1866
up to 1900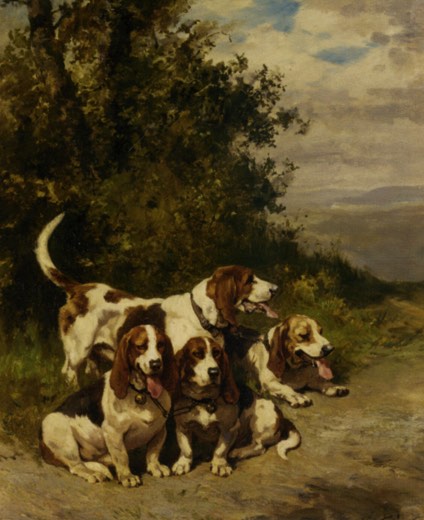 Charles Olivier dePenne (1831 to 1897) Hunting Dogs On A Forest Path Oil on Panel
From "La Chasse Illustree" 1867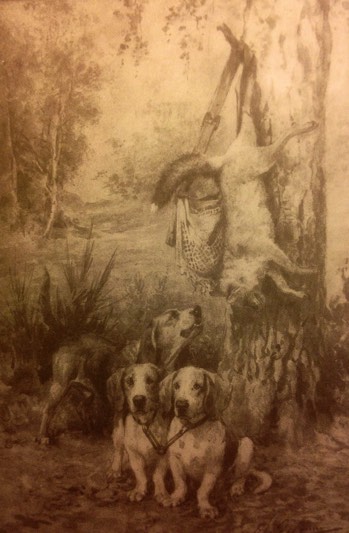 Three Bassets by Charles Oliver dePenne (1831-1897)
1866 was a very important year for Basset Hounds in regard to the specific breed we are familiar with today. That was the year that the Basset as we know it today arrived officially in Great Britain. Lord Galway of Serlby imported two examples he named, Basset and Belle, from the well respected kennels of Count le Couteulx de Canteleu. The first mention of "Basset Hound" as the name for the breed to appear in British literature was in a letter from Lord Galway to Captain (later Major) C. Heseltine (of later Walhampton Bassets Pack fame). The continued breeding of Basset Hounds on a scientific basis began later that year when Lord Galway bred Basset to Belle.
Unfortunately little is known about Lord Galway or his pack of Basset Hounds. We do know that in late 1866 the mating of Basset and Belle produced a litter of five. Unfortunately there are no illustrations of Lord Galway's Basset Hounds and records of breedings in those days were not documented like they are today. Also adding to the confusion of the period it was a common practice for several dogs to have the same name.
We do know that Lord Galway was an avid sportsman who owned several packs of dogs. In Lord Galway's time hounds were kept in packs. It was quite common for the nobility and well to do to house several packs and use them for hunting. History tells us that Lord Galway was a dedicated hounds-man. His son said of him that Lord Galway, when a member of Parliament, was known often to vote at one or two in the morning, then take the newspaper train (a train that delivered newspapers to rural towns that usually left London between 2:00 and 3:00 A.M.) from King's Cross Station and be out hunting with the hounds by half past eleven. He kept several packs of hounds in his Hunting Center at his estate, Serbly Hall until his death in 1876 due to a hunting accident.
Two Bassets and a Briquette-sized wire hound from Le chien; historie naturelle, races d'utilite et d'ageement by Eugene Gaylot in 1867
The Basset Hounds imported to England by Lord Galway's may have looked like those in this illustration done by Gayot in 1867.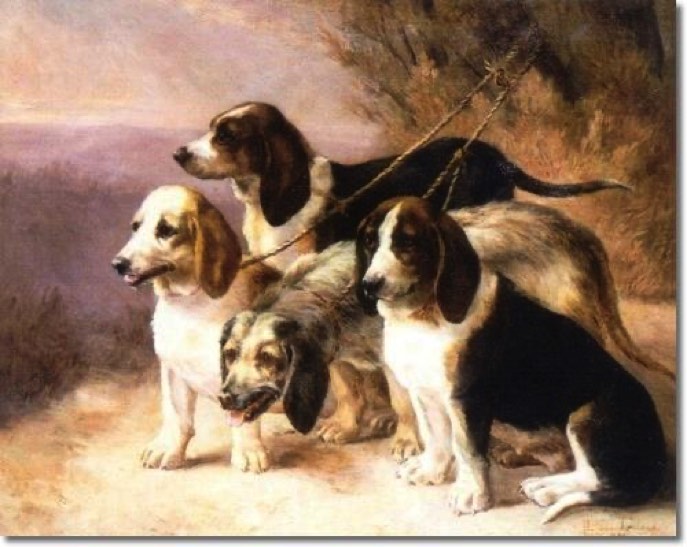 Louise Lalande - Basset Hounds 1884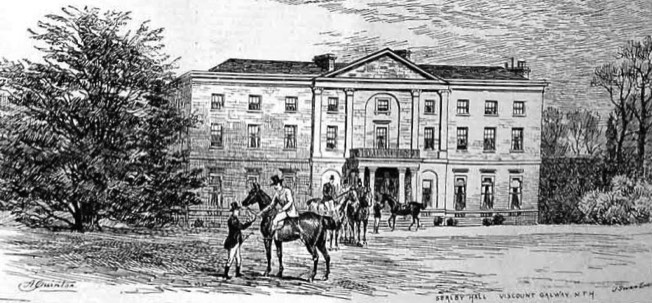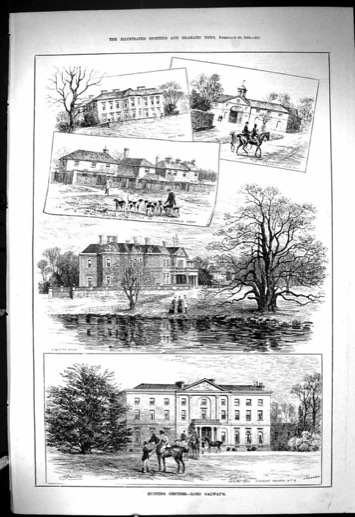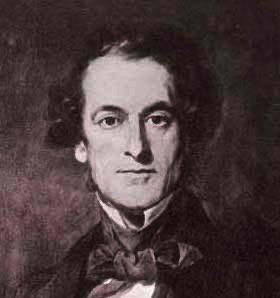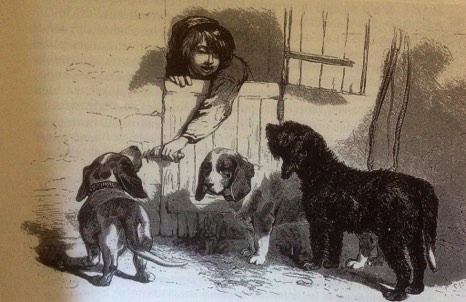 Lord Galway's Serlby Hall
Knottinghamshire, England
By 1872 Lord Galway had lost interest in the breed. This was perhaps due keen interest in fox-hunting and his position as Master of the Grove Hunt. He passed his small pack of three and a half couple (seven) to Lord Onslow. As Lord of the Manor, Onslow owned vast heathland that housed a large rabbit and hare population. Between 1873 and 1875 he imported more Bassets. Lord Onslow formed a useful hare-hunting pack that he kept until 1882 when he sold a pack of fifteen hounds to Sir Everett Millais and George Krehl.
In Lord Galway's letter to Heseltine he stated, "In July 1866, I was staying at Royal, Puy de Dome, France where I met the Marquis de Tournon and his son, the Comte de Tournon. The latter promised me a pair of Basset Hounds from his pack, which duly arrived in the automn at Serlby. They were a dog and bitch and I called them "Basset" and "Belle". They were long, low hounds shaped much like a Dachshund, with crooked forelegs at the knees and with much more bone and longer heads than beagles. They were not the dark tan colour of Dachshunds but the colour of Foxhounds with a certain amount of white about them. They had deep heavy tongues more like Foxhounds than beagles." (spelling and grammar are as used by Lord Galway)
Hunting Center - Lord Galway - 1886
George Edward Arundell Monckton-Arundell, the sixth Monckton Viscount Galway and Baron Killard (1805-1876)
The illustration below shows what a hunt with Basset Hounds may have looked like during this time period. Based on the title it can be assumed that this hunt took place in France. These would be the types of hounds that people like Sir Everett Millais and George Krehl were interested.
When Mr. Everett Millais in 1874 were staying in France he visited a dog show in Jardin D'Acclimatation to have a look on a pair of Frech dachshund and to compare them with his ones. Besides the dachshunds he noticed on the show some Basset Astésien Normad which called his interest. Fino de Paris and Model, the two littermates from the Count le Couteulx de Canteleu kennel impressed Millais quite hard, than he chose Model. Fino de Paris was afterwards bought by another English man, Mr. George Krehl. Practically all Bassets of nowadays are descendants of these two dogs. In 1877 Lord Onslow imported 3 Bassets form Count le Couteulx de Canteleu kennel: Fino, Finett and Nestor (they are littermates, so this Fino is not the same as Fino de Paris, but they are likely relatives). From cross-breeding of Model and Finett, Proctor and Garenne were born. Garenne was crossed back with his own father Model and gave birth to Isabel, Model II. and Vesta. Mr. Millais chose Onslow's Fino as a brood male for his dog named Isabell. As a results of this crossing Ulfius Bratias, Niniche, Kathleen and Marie were born in August of 1879. Than some more crossings of relatives were happened: Bratias and Ninich, Ulfius and Kathleen. Finette II. is originated from this last pairing.
Dogs and All About Them published in 1934 States:
As with most imported breeds, the Basset-hound when first exhibited was required to undergo a probationary period as a foreign dog in the variety class at the principal shows. It was not until 1880 that a class was provided for it by the Kennel Club.
In 1876 the first Basset Hound type dog to be shown was in a British show was "Model" owned by Sir Everett Millais. Millais imported "Model" from France in 1874.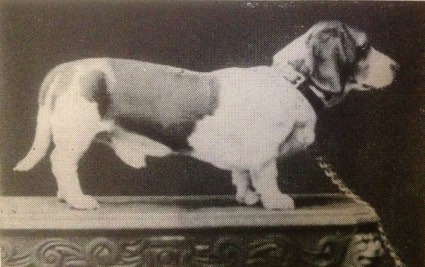 Photo of Model circa 1879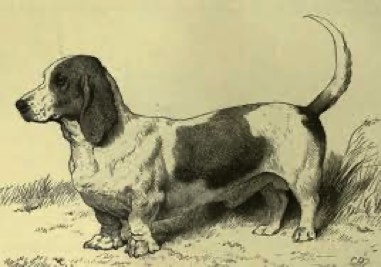 Mr. Everett Millais's Basset Hound Model by Mr. C. B. Barber from Cassell's Illustrated Book of the Dog, 1881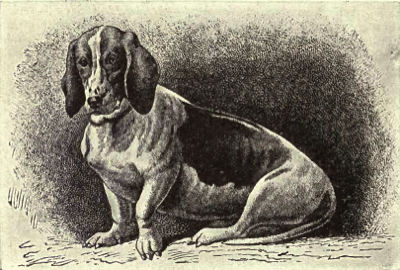 The late Sir Everett Millais's Smooth Basset Model, British Dogs, Their Points, Selection and Show Preparation, 1903
Millais became known as the "father of the Basset Hound breed" in England. While he exhibited the first Basset, Model, in England in 1875 it was not until 1880, when Millais coordinated a large Basset Hound entry for the Wolverhampton dog show, that public attention finally focused on the breed. That year the Basset Hound was officially recognized by The Kennel Club in Britain.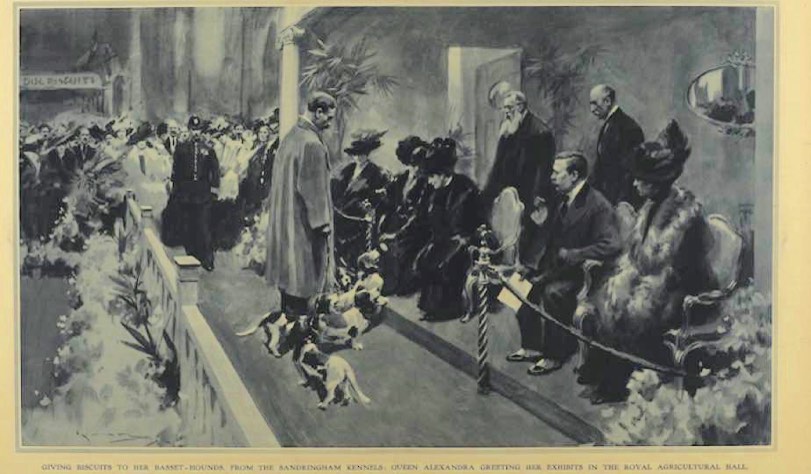 Giving biscuits to her Basset Hounds from the Sandringham Kennels: Queen Alexandra greeting her exhibits at the Royal Agricultural Hall. The year of this painting is unknown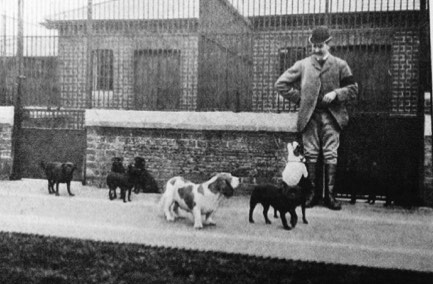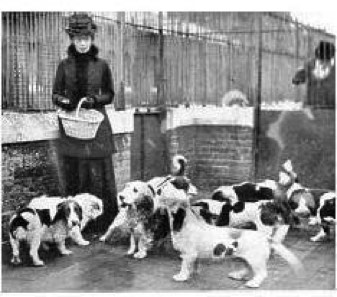 Queen Alexandra at Sandringham Kennels with rough and smooth coat bassets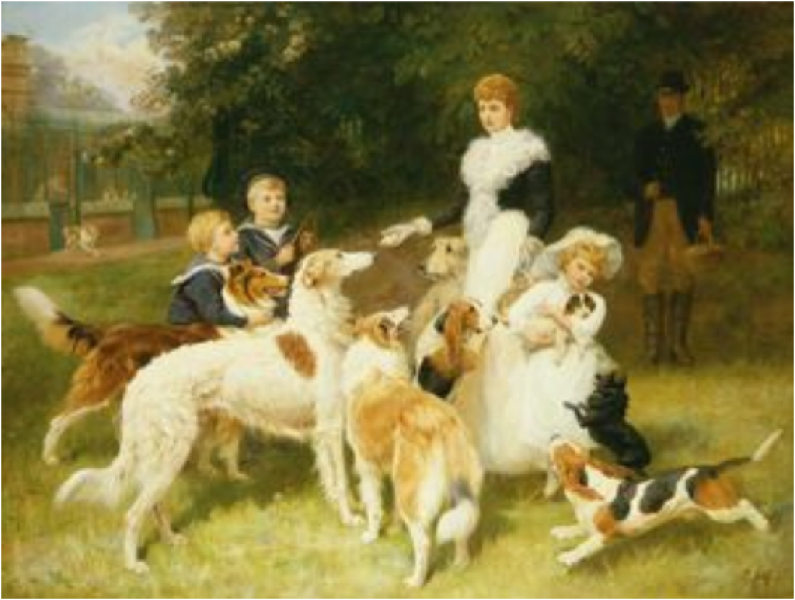 Queen Alexandra with her grandchildren and dogs, in a painting by Frederick Morgan and Thomas Blinks of 1902. This shows the Queen outside the kennels at Sandringham, surrounded by a variety of dogs including a Borzoi, two collies and two basset hounds.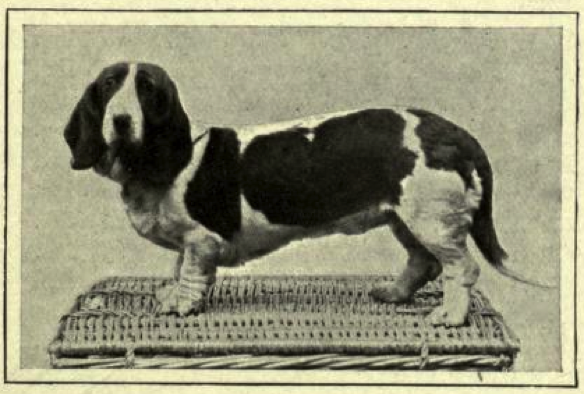 Several years later, the Basset's popularity in England grew when Prencess Alexandra. The Basset Hound Club was formed in Britain in 1884 with such influential supporters as Princess Alexandra (who later became Queen), brought the breed into her royal kennels and became a keen breeder of Basset Hounds herself. Although these hounds were bred predominately as show dogs or good-natured companions, formal hunting packs of Basset Hounds were formed in Great Britain around this time.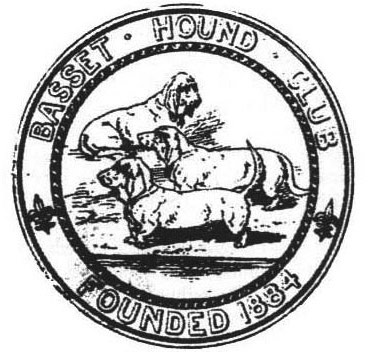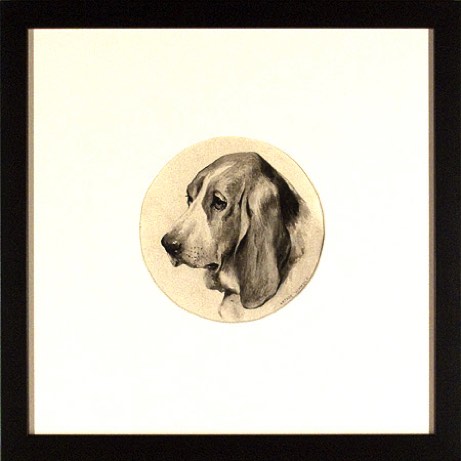 Sandringham Lockery by Arthur Wardlea favorite Basset Hound of King Edward VII and Queen Alexandra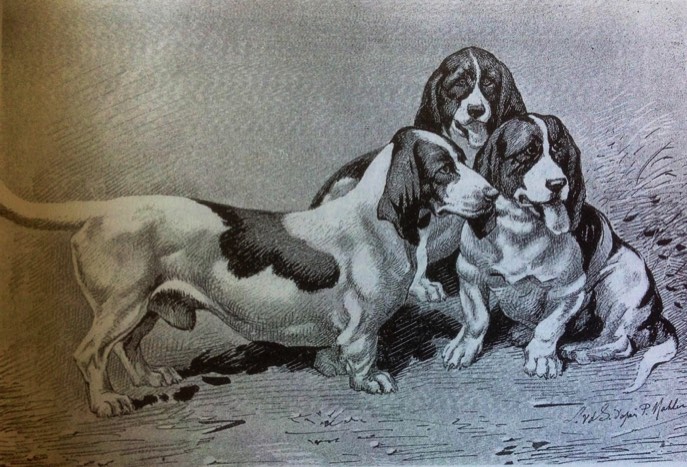 Three Bassets from the Lane Kennels Colonel Mascotte and Gibelotte 1888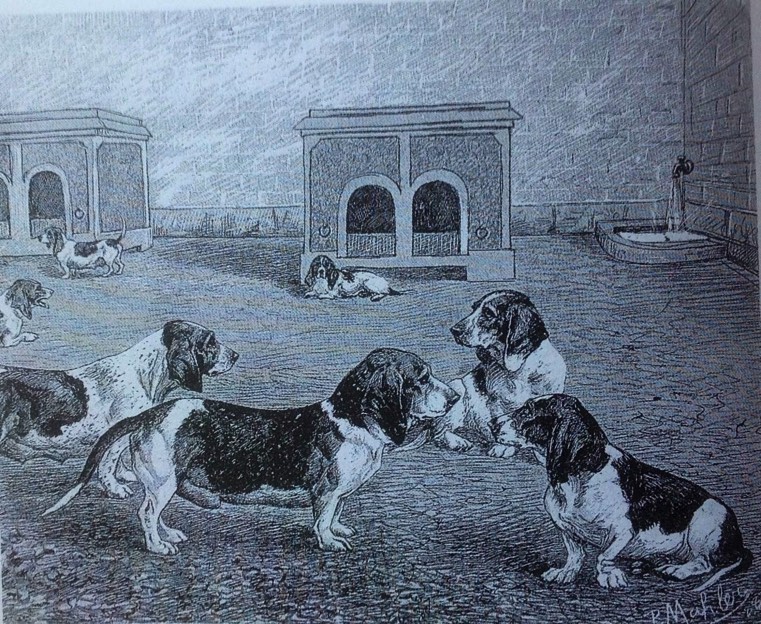 Pack of Basset Hounds at Jardin d' Acclimatation Late 1800s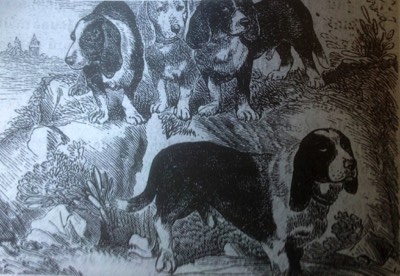 Very likely they looked more like those shown by Pierre Pichot at the Paris Dog Show in 1863.